I'm a huge fan of weddings that truly show who the couple really is.  There's something magical about being part of an event that feels totally like them.  Before my husband and I got married, we attended a friend's wedding that really raised the bar for me when it comes to weddings truly reflecting the couple.  Every detail was just them, if you know what I mean.  You probably could have plopped me down in the middle of it with no knowledge of who was getting married and in just a few minutes I would have known it was them.  Luckily we attended that wedding before planning our own so I knew what I wanted to aim for!
When you start trying to make your wedding reflect you as a couple, the possibilities are endless. An easy way to do this is to break out of the ceremony, cocktail hour, dinner and dancing formula by providing other activities for your guests. Here are 5 ideas that don't require any extra space to play.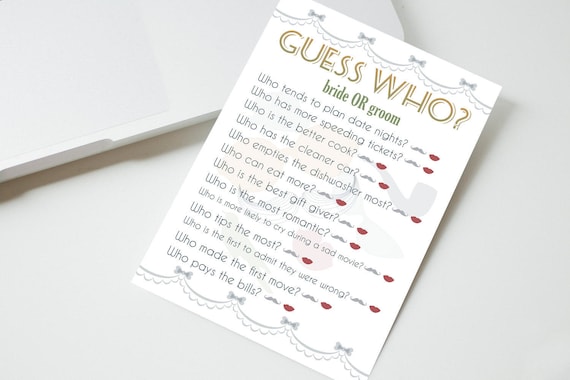 This game is perfect if you and your fiancé love being the center of attention. You'll need someone to read the questions, 2 chairs facing back to back, and your shoes (of course). Exchange 1 shoe with your new spouse (!) so you both have 1 of each then sit in the chairs facing away from each other. As each question is asked, hold up the shoe that matches the answer. So if you're asked which of you always falls asleep first and you think it is you, raise your own shoe. The questions and whether you're on the same page with your spouse can be sweet or funny. You can write your own questions, find question ideas here, or get these Guess Who game cards from ElinaWedding so your guests can play along with you.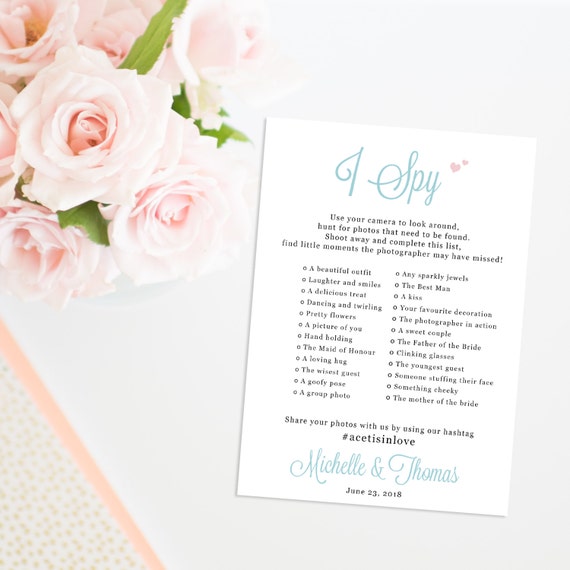 This game is great for capturing extra pictures from your reception, especially if you have a wedding hashtag! Your guests get this list of things to snap pics of and share with the hashtag. Its also easy to use to entertain kids at the reception.  These printable cards from AcetiDesignCo would be perfect to leave at each place setting or on each table.
Wedding Bingo is my favorite, but I'm biased since I created it! Each guest gets a card full of items they might see during the ceremony and reception. Cards are divided into categories - ceremony, food & drink, people, wardrobe & decor, and reception - and each card has stickers attached to the back to mark off squares. Your guests will be totally into looking for all the details of the day you worked so hard on so they have a better chance to win Wedding Bingo. Plus, this is a game you can play too without being the center of attention!  You can buy Wedding Bingo here.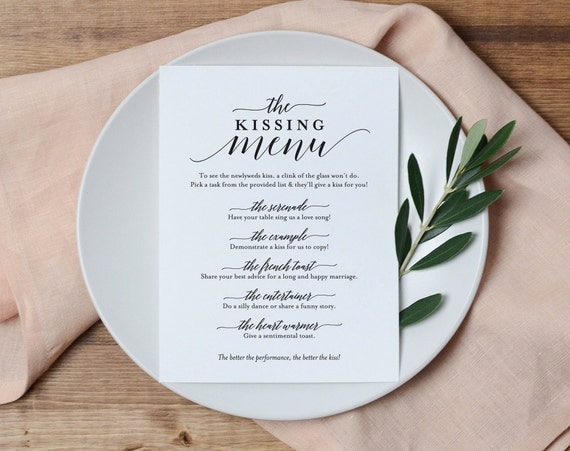 This is a cute spinoff from tapping on a glass to get you and your new spouse (!) to kiss. Leave these on your tables to encourage guests to do things like serenade you or give a sweet toast. When they perform an item from the menu, you lovebirds give each other a kiss. Check out this printable Kissing Menu from BlissPaperBoutique.
Do you remember doing mad libs as a kid?  I loved them! You choose words blindly based on the part of speech requested without knowing how they'll fit into the story. Then you plug those words into the story to see what you wrote. The resulting stories can be hilarious. This activity is great because guests can play solo or fill out the cards as a group. Plus, you can collect them as a guest book. These wed-lib cards can be downloaded for free from Something Turquoise.
For more ideas, make sure you're following my Wedding Reception Games board on Pinterest!